News and Press
The Civil Service Commission has awarded a Recognition to the City of Ilagan Water District represented by the General Manager, Engr. Sherwin B. Quijano ...
Water Quality refers to the chemical, physical and biological characteristic of water...
Developments
The City of Ilagan Water District (CIWD) is replacing its old distribution mainline pipes from Brgy. Osmeña to Centro Poblacion. This project aims to solve water quality problems, consistent supply pressure and reduction of water losses...
Filtration is a biological process in water treatment in which undesirable elements are removed, resulting to a safe and potable water that conforms with the Philippine National Standards for Drinking Water (PNSDW)...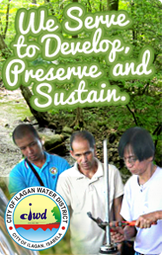 Announcement
The CIWD Management is implementing the TWO-MONTH DISCONNECTION POLICY. CIWD Taskforce Disconnection Team is authorized to compel the disconnection order after the due date stated in the billing statement
Careers
Be part of CIWD Family! Browse our careers section for latest job openings.
Contact Us
(078) 624 0097 | (078) 624 2083
(078) 624 2083
Affiliates